Nd Yag Laser Removal Training 1 Day
With the increasing demand for laser removal treatments in salons, mastering these techniques is a must for every PMU artist. 
It's becoming more common to see people with poorly done permanent makeup on their brows, lips, or eyeliner. Next to this, if your client had a PMU treatment before, it's recommended to have it removed before getting a new, beautiful PMU applied. Ensuring the best result for your client. 
Our expert instructors will teach you everything you need to know about safely and effectively removing permanent makeup. You will learn how to completely remove Permanent Make-Up in brow, lips and small dark tattoos. Next to this you will be able to correct PMU by adjusting color (e.g. remove red from eyebrows) and lighten dark pigment. But also by partial removal (e.g. make thick eyebrows narrower). Regardless of the type of pigments, both organic and mineral pigments can be removed. 
The Ecuri laser course also covers removing pigment spots such as melanin and treating fungal on nails and carbon peeling. Don't wait, sign up now and take your PMU career to the next level! 
If you have purchased or plan to purchase your laser equipment from Ecuri Cosmetics, you will receive a €400 discount!
Trainer: Alec Kurucz

Cost: € 400 or € 800 

Training days: Every second monday of the month 

Training duration: 1 day, start 11.00 till 17.00

Find all your answers in the FAQ section below!
FAQs
Voor wie is deze training?

Deze training is bedoeld voor iedereen die zich professioneel bezighoudt met PMU en regelmatig cliënten in de stoel heeft waarbij een deel moet worden verwijderd of gecorrigeerd. Je hoeft zelf geen fouten te maken om toch vaak te corrigeren. PMU-correctie is een onmisbaar onderdeel geworden van onze vaardigheden en deze training kan heel veel klanten blij maken.
Wat komt komt er aanbod bij de Ecuri Laser removal techniek?

Ecuri Laser training is een training van 1 dag met 2 modellen, van 11:00 tot 17:00..

De cursus start met een theoretische uitleg over de Ecuri laser verwijderingstechniek ( 30 min.).
Oefenen van de techniek op kunsthuid (1 uur).
Het toepassen van de techniek op modellen (4 uur).

Foute pigmentaties worden één voor één behandeld, zodat iedereen kan meekijken hoe het probleem wordt opgelost. De trainingsgroep bestaat uit maximaal 4 personen, zodat iedereen de ruimte krijgt om de techniek echt onder de knie te krijgen.
Moet ik zelf modellen meenemen?

Geen zorgen modellen voor correctie is natuurlijk lastig te vinden. Wij bieden ook de mogelijkheid om te werken met modellen, zodat je kunt meekijken, oefenen en leren hoe de huid reageert. Zodat je een goed gevoel krijgt over hoe je verschillende situaties kunt aanpakken. Mocht je zelf geen modellen hebben, laat het ons dan tijdig weten. Wij zorgen ervoor dat er voldoende oefenmodellen beschikbaar zijn.
Wat kan ik na de laser removal cursus?

De Ecuri laser removal training is een complete cursus. Na één trainingsdag kun je alle laser behandelingen uitvoeren:

Volledige verwijdering van Permanente Make-Up in brow en lips
Hoe je organische en minerale pigmenten verwijderd
Verwijderen van kleine donkere tatoeages
Kleur aanpassen (bijvoorbeeld het rood van de wenkbrauwen verwijderen)
Donkere pigment lichter maken
Gedeeltelijke verwijdering (maak bijvoorbeeld dikke wenkbrauwen smaller)
Verwijderen van pigmentvlekken: melanine
Behandelen van schimmelnagel
Wat is Carbon peeling?

Carbon Peeling is een peeling gebaseerd op lasertechnologie en medische koolstof. Carbon is de Latijnse naam voor koolstof. Deze behandeling reinigt je huid diep tot in de poriën. Carbon Laser Peeling vermindert duidelijk grove poriën, acne en littekens. Veel mensen merken ook een afname van fijne lijntjes en rimpels op. Mensen met een vette huid hebben veel baat bij Carbon Peeling. Deze behandeling is ook zeer geschikt voor mensen die last hebben van een glimmende huid, waarbij foundation gedurende de dag vaak niet goed blijft zitten of er mooi uitziet. Carbon Peeling zorgt voor een natuurlijk matte en droge huid zonder deze uit te drogen. Bovendien is er geen hersteltijd. Dat betekent dat je geen zwelling of roodheid hebt. Je ziet er meteen mooi en verzorgd uit. Het aanbrengen van make-up is geen probleem. Carbon Peeling is ook een effectieve oplossing voor mensen met rosacea.
Krijg ik een diploma na de cursus?

Na afloop krijg je een certificaat en rapport.
Wat als ik na de cursus hulp nodig heb?

Geen zorgen, je kunt altijd gratis gebruikmaken van onze expertise. Als cursist krijg je toegang tot een speciale removal whatsapp, waarin je vragen kunt stellen, foto's kunt uploaden en resultaten kunt delen. Op deze manier kunnen cursisten van elkaar vragen en de antwoorden van de removal expert leren.
Wat heb je nodig om te starten?

Iedereen met ervaring in het zetten van Powder Brows kan deelnemen aan de Ecuri permanent make-up laser removal training (als je twijfelt geeft dit aan bij de opmerkingen). We werken met de echte Ecuri Laser.
Hoe werkt het aanmeldproces?

Meld je aan via het aanmeldformulier en je ontvangt direct een bevestiging van je aanmelding per mail. Binnen 48 uur krijg je een e-mail met bevestiging en factuur (kosten: €400 of €800). Na betaling van de factuur ben je volledig ingeschreven.
Is laserbehandeling schadelijk voor de huid of de ogen?

Nee, laserbehandeling is veilig voor de huid en laat geen littekens achter. Tijdens de behandeling wordt er echter een siliconen bril op de cliënt geplaatst om ervoor te zorgen dat het laserlicht de ogen niet bereikt.
Is laserbehandeling schadelijk voor het haar?

Nee, de Nd Yag laser is geen laser voor ontharing. Het verwijderen van haar is niet mogelijk met deze laser. Als klanten behandeld worden voor eyeliner of wenkbrauwen heeft dit geen invloed op de haargroei. Sterker nog, veel klanten rapporteren juist een toename van haargroei na de laserbehandeling.
Hoeveel behandelingen hebben klanten nodig om pigment te verwijderen?

Het aantal behandelingen hangt af van de hoeveelheid pigment die in de huid is geplaatst en of volledige verwijdering nodig is. De meeste mensen hebben gemiddeld 2 tot soms 3 behandelingen nodig. Bij het gebruik van tattoo pigment kunnen er meerdere behandelingen nodig zijn. Tattoo pigment is moeilijker te verwijderen dan PMU pigment. Het verwijderen van tattoo pigment vereist doorgaans meerdere behandelingen en kan niet in één sessie worden gedaan.
Is de behandeling pijnlijk?

De pijn tijdens een laserbehandeling is vergelijkbaar met een PMU-behandeling. De meeste mensen kunnen dit goed verdragen. Indien gewenst kunnen cliënten verdovende crème aanvragen bij hun huisarts en deze voorafgaand aan de behandeling aanbrengen. De meeste mensen maken hier echter geen gebruik van.
Hoe ziet iemand eruit na een behandeling?

Na een laserbehandeling kan de huid licht opgezwollen zijn, vergelijkbaar met een PMU-behandeling. De huid geneest echter veel sneller dan na een reguliere PMU-pigmentatie. De meeste mensen kunnen na 72 uur voorzichtig weer hun normale activiteiten hervatten. In de eerste 72 uur mag er geen make-up worden gebruikt. Douchen is meestal weer mogelijk na 24 uur. Autorijden na de behandeling is geen probleem.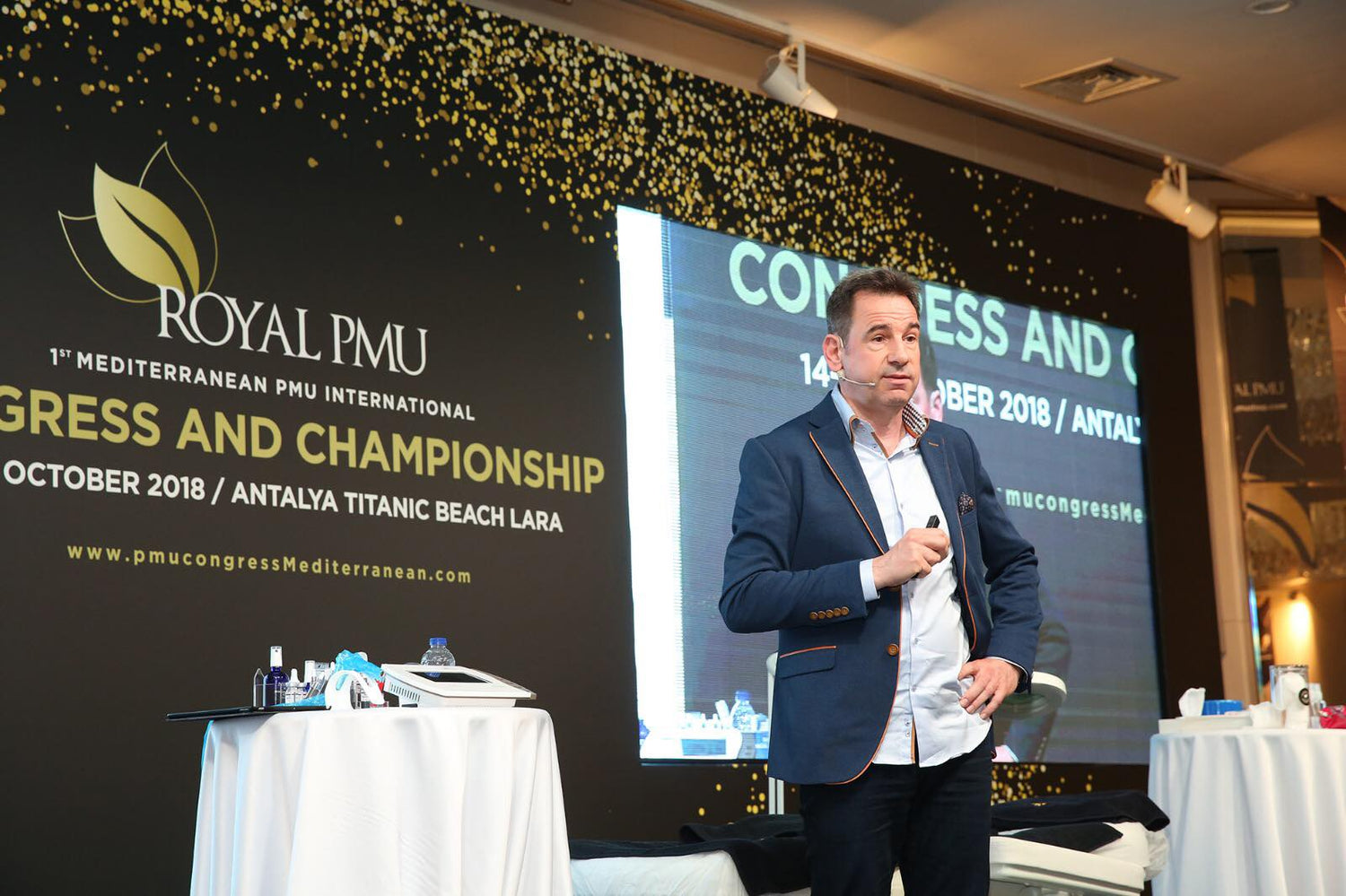 Je kunt reserveren tot:
Het beheersen van correctie- en hersteltechnieken is een essentiële vaardigheid voor PMU-artiesten. Met deze cursus kun je elke PMU-uitdaging met vertrouwen benaderen. Eb de natuurlijke schoonheid van je klanten corrigeren en verbeteren. Reserveer snel je training